Biography
Séverine Desmarest is a self-taught photographer, who has let her passions for images, people and art prevail in her life course.
Nourrie de ses étudesNourished by her studies of law, political science and letters, she is inhabited by a deep awareness of the challenges of the world and a desire to highlight what is most generous. The artist begins to capture the aesthetic magic of the Opéra National de Paris and then the Comédie Française in his silver images while maturing his "Hands of Peace" project.
She photographs imbued with romanticism, lightness and poetry invite us to embark on an imaginary journey.
After numerous works and exhibitions for these two prestigious stages, she devotes herself to the realization of the exhibition "Hands of Peace". the meeting with UNESCO will be the catalyst that will enable it to implement it. This project aims to bring together forty portraits of people engaged in peace initiatives, from different nations and united by the same humanist ideal.
In 2017, Séverine Desmarest presented the exhibition "Les Mains de la Paix" in partnership with UNESCO on the UNESCO gates in Paris from 30 Oct
It was inaugurated during the 39th General Conference of UNESCO (from October 30 to November 14), which brought together the 195 member states …
Since 2018, Les Mains de la Paix continues its roaming in France and abroad (Paris, Geneva, Lausanne, Cannes, La Rochelle, Fontevraud, Saint-Savin sur Gartempe …).
Exhibitions
2017 / 2023 – "Hands of Peace" exhibition

Paris, Garden of the Jeanne Garnier Medical Center
Saintes, University Hospital Center
Limoges, Faculty of Law and Letters
Saintes, Cloister of Saint-Pierre Cathedral
Limoges, Olympic ice rink
Nantes, Nicodemus's house
Lausanne, Notre Dame Cathedral
Geneva, United Nations Office
Saint-Savin- Abbey
Paris – Unesco gates
Lausanne – Cathedral
Geneva – Cathedral
Cannes Film Festival – Place Chanoine-Grau and Notre Dame d'Espérance Church
La Rochelle- Cloister of the White Ladies
Fontevraud – Royal Abbey

2006 – exhibition "Costumes in freedom" – Albania, Alliance Française, Tirana theater – "Costumes in freedom" is part of the traveling exhibitions of the Comédie Française.
2002 / 2003 – exhibition "Costumes en liberté" – Paris, Studio-Theater of the Carrousel du Louvre, Theater du Vieux-Colombier, Salle Richelieu of the Comédie-Française
1997 – exhibition "Dance, Shadow & Light" – Paris, Opéra Bastille
1996 – "Flights of light" exhibition on dance and movement – Paris, Fnac Etoile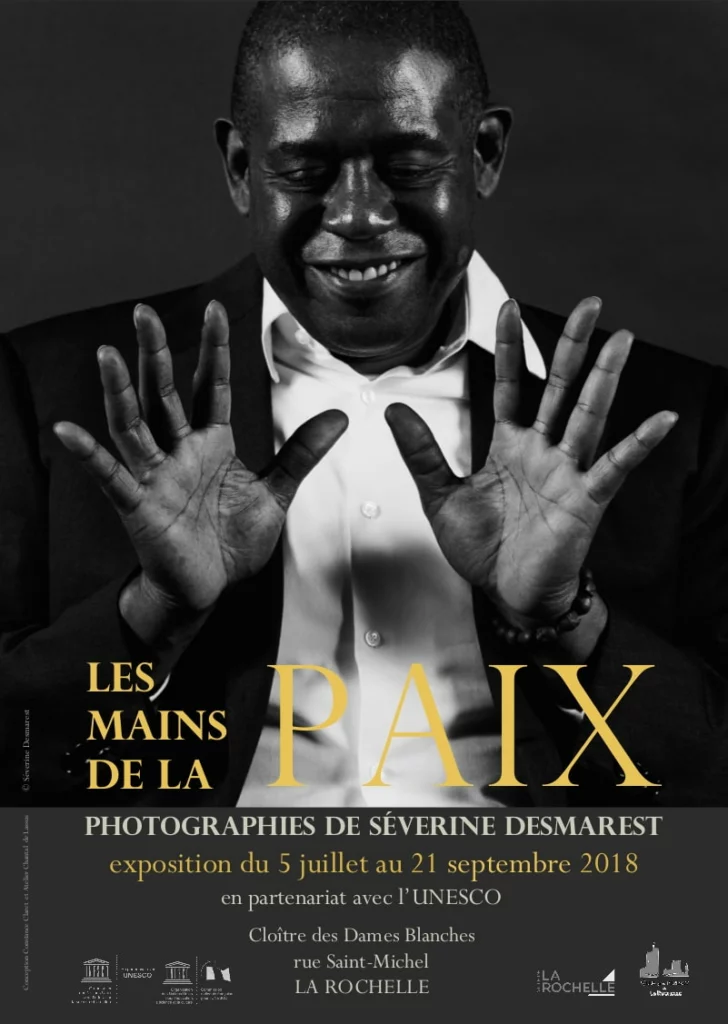 Editions
Catalogs of old books
2008 – Catalog of the exhibition "Georges Barbier, the birth of Art Deco" (Venice, Fortuny museum, Sept. 2008 – January 2009), posters and postcards.
2002 – Poster and postcards for the exhibition "Costumes en Liberté" immortalizing dresses and stage clothes from the Comédie Française.
2001 – Illustrations for the book "The Orchester de l'Opéra de Paris" – Editions de la Martinière
2000 – Catalog and poster of the exhibition "The Voices of Silk", dedicated to the most beautiful costumes of the Opéra National de Paris – Lyon Tissue Museum
1999 -Poster for the sale of stage costumes for the Opéra National de Paris.